This is part of a series of posts highlighting ongoing or recently completed LSTA grant projects in NC. Library Services and Technology Act (LSTA) monies are federal funds from the Institute of Museum and Library Services, distributed by population via the federal Grants to States program. The  State Library of North Carolina uses a portion of these funds to award competitive grants to eligible North Carolina libraries.  This is a guest post written by Siobhan Loendorf from Catawba County.

For the 2014-2015 LSTA grant cycle the Catawba County Library was awarded a Lifelong Learning grant to fund "Robots in the Library."
The project to establish a peer, train the trainer, robotics program was conceived and carried out by librarian Siobhan Loendorf, who was inspired by her son's middle school robotics program. Loendorf was so impressed with what the students were doing in their small group that she wanted to figure out a way to bring access to that type of learning to more children. Due to the expense of Lego Robots and the required software it seemed a logical resource to be shared through the public library.
However, since Loendorf did not have any personal experience with the Lego robots she contracted with Cyberkids Robotics to provide training to children at each of the library's seven branches. Students age 10 and up completed applications for the free robotics program and began attending team meetings where they worked together to assemble a robot and program it to complete an assigned set of tasks in preparation for a First Lego League competition.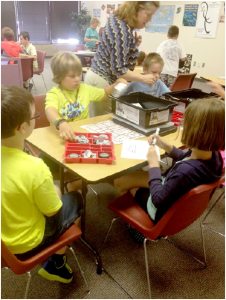 Over the winter months students attended approximately 10 sessions with a trainer to learn how to build and program their robot to execute the tasks required in the First Lego League competition. At the end of training, Cyberkids Robotics facilitated a competition event where teams demonstrated how their robot could complete the list of assigned tasks. In between rounds teams could tweak their programming or their robot to improve their times. One young man was the only person to show up for his team and despite being terrified to compete on his own he ended up winning first place and was ecstatic.
We wanted to reach even more children, so the library used tour seven Lego robots to host robotics programs at each of the libraries for the 2015 Summer Reading Program. Due to demand, we sometimes held two sessions at one branch. These were very successful training sessions where children 5 and up learned how to program the robot's sensors and how to build the robot. We also demonstrated how the robots could connect via Bluetooth technology to the library iPads and driven around. It was very rewarding to see the light bulb turn on for kids as they really understood the programming side of things. It was equally rewarding to see a young girl who hadn't wanted to come to the program because Legos were "not her thing," discover that she did actually enjoy building the robot and maybe it could be her thing.
We also held staff training so that all of our library staff could learn how to program and assemble the robots with the goal that they would feel less intimidated by the technology and be more likely to encourage kids to explore it in the future.
Finally, we used assembled robots at an Elementary School Parent Night. We drew a race course on the floor and connected the robot to ipads, then let children drive the robot through the course in the school library while we talked to parents about getting library cards and library resources.
While I count this program as a big success it was not without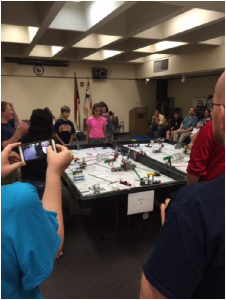 obstacles mostly caused by contracting with the company that provided the training. If I had it to do over again I would not contract the service out to that particular company. I would instead hire someone or organize volunteers, provide them training through the Co-operative extension or some other method and create a curriculum with lesson plans. I would also insist that each branch librarian be trained with the robots and that they participate at all robotics meetings.
We are still working towards hosting open robotics lab times at each branch where children that have been trained on the robots can share their knowledge with other children. If we can get that off the ground we are hoping that students will want to get together to host future competitions.
If you are interested in starting a program like this at your branch I would encourage you to visit with your local school program or contact the cooperative extension program. Take some classes to learn how to use the Lego Robots and explore how they can best be used in your library. Please feel free to call or email if you have any questions.
Contact Information:
Siobhan Loendorf
ph: 828-465-8292
sloendorf@catawbacountync.gov
Thank you to Siobhan and the Catawba County Library staff for sharing this project!