This post is part of a series of posts highlighting ongoing or recently completed LSTA grant projects in NC. Library Services and Technology Act (LSTA) monies are federal funds from the Institute of Museum and Library Services, distributed by population via the federal Grants to States program. The  State Library of North Carolina uses a portion of these funds to award competitive grants to eligible North Carolina libraries.
This is a guest post by Martha Wilson.
Grant Category: EZ Literacy and Lifelong Learning
The Gaston County Public Library submitted an LSTA Lifelong Learning and Literacy Grant to make our Library system more receptive to Spanish-speaking patrons. This need was recognized during our strategic planning process and was represented in local demographics. Our goals included adding materials in Spanish, merchandising those resources, providing programs that would attract Hispanics, and utilizing outreach opportunities to issue cards and talk about resources. A monthly bilingual storytime was also born from this grant initiative. Lastly, the Library updated interior directional signs to provide information and a welcome to Spanish-speaking patrons.
Utilizing an active partnership with a local Hispanic congregation, a focus group was formed which gave insight to areas needing improvement. The Library also received feedback from various Spanish speakers in the community as well as suggestions from Library staff. A local multicultural branch of BB&T offered suggestions, publicized events, and distributed an invitation in Spanish welcoming individuals to the Library. Other community partnerships included the Gaston Literacy Council and the ESL teachers from Gaston County Schools. We had hoped to develop a full-fledged Hispanic Citizen Board; unfortunately, it was too difficult to coordinate meeting times among individuals.
In addition to bilingual storytimes, the Library sought to offer authentic and energetic programs through various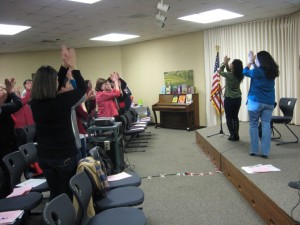 outside presenters. CrissCross Mango Sauce, a performance duo from Charlotte, presented a total of five various dance and music programs throughout the system. Angie Acosta, the founder of Queen City Dance, presented a lively dance program incorporating the Spanish language into dance movements. Jay Barron also presented Canta Conmigo (Sing with Me) encouraging families to sing songs and create music centered on traditional Spanish folksongs.
All special programs were publicized with flyers in English and Spanish. For the two largest programs we ran a bilingual ad in the local newspaper and  took flyers out to Hispanic grocery stores, restaurants, Dominican hair salons, etc.  Flyers were distributed through the ESL teachers and at the Literacy Council. The bank also allowed us to post these events. One bit of feedback was from a Spanish speaking customer at the BB&T Branch who in being told about our upcoming programs highlighting traditions actually cried and said, "You mean the Library is offering something 'for us?!'"
Several branch and administrative staff members visited various schools in Gaston County with a high number of students in ESL classes. This was usually scheduled when there was a parent event and Library cards were successfully issued.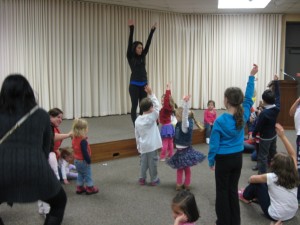 A local program source which was quite reasonable in cost was a "Baila Baila" (Dance, Dance) Program presented by a local bilingual fitness professional. The dance activities used Latino music and the leader provided instruction for the dance steps and also many basic terms in Spanish which made learning fun for the children and adults in the audience. This program was held at almost all of our branches throughout the school year, and it was such a huge success that it will return for "Fitness Fridays" during the upcoming Summer Reading program.  "Baila Baila" attracted quite a varied audience and all had fun trying to dance. This was popular with both boys and girls; one eight-year-old boy had his grandmother bring him to 4 of our programs!
Attendance at all of our focused programs reached 832 for the fiscal year of the LSTA Grant.   The special December program helped foster pride in traditions. Of the 74 attendees, at least 50 were from Spanish speaking backgrounds, representing 11 different countries from Latin America and Europe.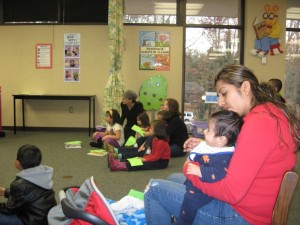 The Gaston County Public Library was able to hire its first Spanish-speaking employee, who was able to assist with translations for flyers and signage and worked with our Youth Services Manager to begin a Bilingual Storytime at the Main Library in Gastonia. This is presented the first Tuesday of each month from October through May and is ongoing. The program has also proved popular – not only with Hispanic families but with those families and children who are interested in the Spanish language and in other cultures. Attendance ranges from 10-38 each month.
The goal of an increase in Library card registrations was met with an increase of 30% among Hispanics. We purchased a total 1,245 new materials and saw an increase of 103% in the circulation of Spanish language and ESL materials. Besides adult books, we added blilingual board books, picture books, non-fiction books on Latin American countries, and DVDs including telenovelas. Music was also a draw. We purchased a display case for "Nuevos Libros en Espanol" that was prominently positioned on the main floor. In June of 2016, a new space dedicated to Hispanic materials with display furniture, signage, and seating will be placed on the main floor of the Gastonia Main Library.
After the efforts of the grant, we do see more Library attendance by Hispanics not only at our Main Library but at branches. An additional three Spanish-speaking employees have been hired to work at three different branches. Several Latino parents now attend story times regularly at our Belmont and Mt Holly branches. Many Spanish-speaking adults have expressed how much the programming and materials has meant for them personally and for their families.  We are so grateful to have been able to use this grant money to make a difference in the lives of so many of Gaston County's citizens.
Martha Wilson
LSTA Project Manager
Gaston County Public Library
marty.wilson@gastongov.com
Thanks to Martha and the staff at Gaston County Public Library for sharing this program!