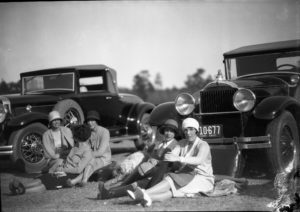 In honor of Women's History Month the North Carolina Government and Heritage Library is offering a  free online webinar on researching female ancestors.  This one hour online webinar will explore resources and practices in finding the women in your family tree using research tools and materials in the NC Government and Heritage Library.  Open to all!
 Register
If you have questions please call (919)807-7460 or email.
Image credit: Women leaning against cars, c.1930. From the Pryor Emerson Humphrey Photograph Collection, PhC.180, State Archives of North Carolina.