by T. Mike Childs
Happy Halloween! You may or may not know that North Carolina is full of chilling legends and myths! Here are some of NCpedia's spookiest entries to get you in the mood for this haunted holiday:
And here's another spooky story. On February 25, 1884, an unexplained shower of blood allegedly fell in Chatham County. It was witnessed by a female African-American sharecropper named Bass Lasater, and reported in the local paper, the Chatham Record. It covered a rectangular space about 50 by 70 feet, with drops "… of sizes varying from that of a small pea to that of a man's finger and averaged about one to the square foot."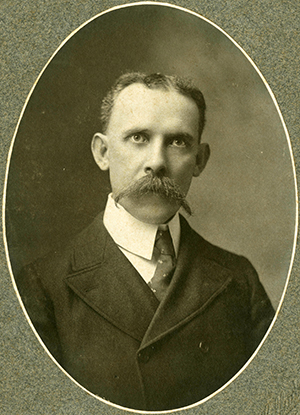 Francis Preston VenableThere the story would likely have stopped and been long forgotten, had it not aroused the interest of University of North Carolina chemistry professor Francis Preston Venable. Venable heard the story, "… mentioned in some of the State papers, but little notice was taken of it." Venable said the affair was "…looked upon rather as a joke and no analysis was made for some time. When it was taken up several days afterwards there seemed to be sufficient interest attaching to it to warrant paying a visit to the locality where the matter fell." Unfortunately, "… nearly three weeks had elapsed, and several heavy rains had fallen…" and "no vestiges of the matter could be found on the ground, and only one or two marks of drops on the fence." Venable acquired samples taken by others and tested them, satisfying himself that "… the samples examined had blood upon them." Venable offers some speculations on what might have happened, but like a good scientist, he does not ascribe anything to the supernatural. He remains confident in science and its ability to explain strange phenomenon over time:  "I have deemed this strange matter worthy of attention. Other similar observations hereafter may corroborate it and combined observations may give rise to the proper explanation."
We're still waiting for a proper explanation.
Venable went on to become president of UNC, chair of the Chemistry Department, and to have the campus building named after him. The journal in which Venable reported his analysis was that of the Elisha Mitchell Scientific Society, which Venable had helped found only a year before, in 1883.
References:
Shaffer , Josh.  "Shaffer: The day it rained blood in Chatham County." Raleigh News and Observer.  October 6, 2013. http://www.newsobserver.com/2013/10/06/3260412/shaffer-the-day-it-rained-blood.html (accessed October 31, 2013).
Venable, F. P. "'Fall of Blood'" in Chatham County. Journal of the Elisha Mitchell Scientific Society (1883-1884).  38-40. http://archive.org/stream/journalofelisham18831884elis#page/38/mode/2up/search/blood (accessed October 31, 2013).
Maxwell, Tom. "'For the Scrutiny of Science and the Light of Revelation': American Blood Falls." Southern Cultures (Spring 2012). http://books.google.com/books?id=1OdZfYrs41MC&pg=PT153#v=onepage&q&f=false (accessed October 31, 2013).