by T. Mike Childs
You may or may not know about the searchable Proficio-based database utilized by the Department of Cultural Resources: (http://collections.ncdcr.gov/dcr/NCDCRSearch.aspx). It's a huge collection documenting all of the artifacts at the various different cultural heritage organizations within the DCR. Many entries have one or more photographs of the artifact, or the artifact is a photograph itself.  Here's what's included: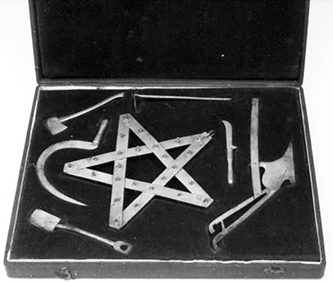 In my never-ending quest to locate images to illustrate NCpedia articles as part of my job, I have used hundreds, yes hundreds of images stored in this database. Many, many thanks are due to those responsible for keeping up this great, unsung resource! (especially John Campbell who tolerated my too many emails correcting typos!) As Julie Andrews sang in the classic musical The Sound of Music, here are "a few of my favorite things" from the database. One is mysterious, one is serious, one is a frightening reminder of our troubled past.
The first is a "Box of Ritual Items" (accession #: H.1955.46.1) used by the North Carolina Grange, aka, The Order of the Patrons of Husbandry, an organization that gave farmers a political voice after the Civil War. Inside a special box are a miniature shovel, plow, axe, hoe, sickle, five pointed star and a machete-looking thing. What was the purpose of these items, so carefully stored in their box with custom-made spot for each item? What was the ritual?! It makes it seem the Grange had a secret-society-type aspect, similar to other organizations like the Freemasons and Odd Fellows.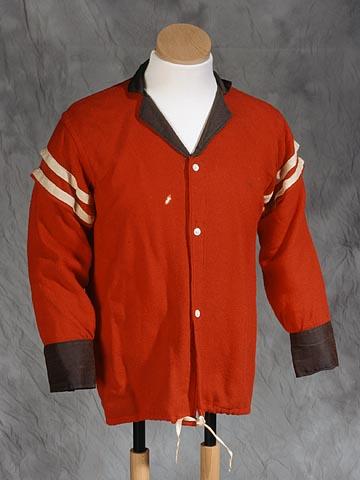 There are lots of garments in the DCR collection, some military uniforms, some that belonged to the famous, but this anonymous article of clothing played a big role in turn-of-the-last-century North Carolina politics. It's a red shirt (accession #: H.19XX.330.32) that illustrates the NCPedia article on, guess what, the Red Shirts, an arm of the Democratic party that acted as intimidating goon squads in the 1898 and 1900 elections to ensure that Democrats and white supremacy prevailed. When I realized I could use a picture of the actual uniform worn by the Red Shirts, that's when I really started to appreciate the depth and breadth of the DCR database.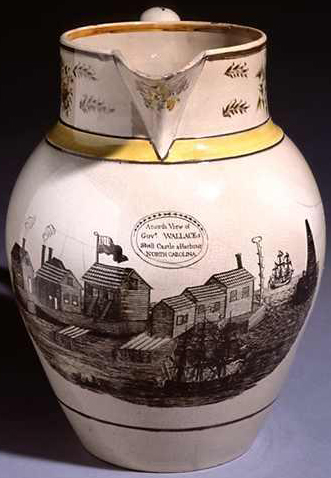 Etchings, engravings, prints, paintings, photos, in books, in pamphlets, in frames, this is where you look for an image of something, right? How about on fine china? No? Well, this not-so-simple pitcher (accession #: H.1933.12.51) preserves an interesting part of North Carolina history: Shell Castle.  For about 20 years (1790-1810), Shell Castle was the main port of North Carolina, and featured one of the state's first lighthouses. Wealthy merchant John Wallace, who liked folks to call him "governor," co-owned the place, and had this pitcher custom made for him in England, and shipped over. Now that's got to have cost a pretty penny back in the day. It's the only illustration I know of showing what Shell Castle looked like. History is quirky, and we have one man's wealth, vanity, and fortunate lack of clumsy, butter-fingered servants to thank for this view of Shell Castle.
Check out the DCR database sometime. I recommend using the Advanced Search page, since you can set the number of results displayed from the default of 10 up to 50.