by Mike Childs, Digital Publishing Librarian, NCpedia.org.
Interested in learning more about the Titantic? The Graveyard of the Atlantic Museum in Hatteras, NC is featuring a special exhibit through May 31, 2012 about North Carolina's ties to the Titanic.
April 15th is the 100th anniversary of the sinking of the R.M.S. Titanic. While the tragedy certainly affected the entire country, are there any specific North Carolina connections to this famous disaster? The answer is yes, but just a few.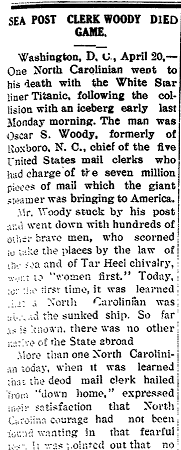 First and foremost, of the 2,224 people on board the Titanic, there was only one known native North Carolinian: postal clerk Oscar Scott Woody. Born near Roxboro, in Person County, North Carolina, Woody unfortunately perished in the sinking. His death was viewed as noble and honorable as he died fulfilling his duty, trying to save sacks of mail from the flooding post office by lugging them up on deck.  An article in the Raleigh News and Observer, and reprinted in Woody's hometown newspaper, The Roxboro Courier,  said, "More than one North Carolinian today, when it was learned that the dead mail clerk hailed from 'down home,' expressed their satisfaction that North Carolina courage had not been found wanting in that fearful test" and noted that he "Died Like a North Carolinian."
Woody remains a bit of an enigma as there is not much information on him, and some of that is suspect: His age is typically given as 44, and his birth year as 1868. This does not agree with his age on his 1910 marriage license application, nor the 1880 and 1900 censuses, where 1871 is the year. There is some question as to his parentage; whether he was the child of John F. Woody's first or second wife. His connection to his home state is also uncertain, his work required frequent travel; first as a railroad clerk going from Greensboro to D.C., and secondly with the Sea Post boarding ships in New York City. His wife lived in Clifton, Virginia (then called Clifton Station).
Another Roxboro Courier article asked, "Messrs. Editors, can you give us a cut of this noble young hero who went down to a watery grave, bravely at his post, in The Courier?" Alas, they did not, and the historical record is all the poorer for it.
Tracking his widow, Mrs. Leelia Bullard Woody, is only slightly more fruitful. She attended Valparaiso University in Indiana, and braved a September 1929 ocean voyage to Europe on the Montroyal, which docked at Southhampton, the port from which the Titanic left. She listed the U.S. Pension Bureau as her home address and so may have worked there. She also appears in a brief newspaper article visiting friends in Panama City, Florida in 1951. She may have died April 14, 1965 and be buried in Glenwood Cemetery in D.C.
Another Titanic-North Carolina connection is Nassef Cassem Albimona. This survivor of the Titanic disaster came to America from Lebanon in 1903, and lived in Fredericksburg, Virginia. In 1915, he moved to North Carolina to work in a diner. Where in North Carolina you might ask? Roxboro! Strange coincidence, indeed.
Another connection concerns the famous Vanderbilts who built the massive and luxurious Biltmore Estate in Asheville, N.C., The wealthy couple, George and Edith Vanderbilt, had planned to travel on the Titanic to Biltmore in Asheville, N.C., but were dissuaded by Mrs. Dresser, Mrs. Vanderbilt's mother. She successfully argued that maiden voyages of ships were too dangerous. They switched ships to the Olympic. However, the Vanderbilt's personal valet, Fred Wheeler, did travel on the Titanic, and perished.
There are descendants of Titanic survivors living in North Carolina who have appeared in newspaper articles: Allen Gillespie of Winston-Salem, Laurie McKean of Raleigh, and Julie Hedgepeth Williams, of Raleigh, who wrote a book about her ancestors: A Rare Titanic Family: The Caldwells' Story of Survival.
And finally, it was a North Carolinian who introduced and championed the federal RMS Titanic Maritime Memorial Act of 1986, which passed into law October 21, 1986. Democratic Representative Walter B. Jones, Senior of the House Committee on Merchant Marine and Fisheries was largely responsible for the bill's passage. The discovery of the wreck a year earlier caused concerns that the site would be damaged by salvagers and there was a strong sentiment the wreck should be left alone as a memorial to its victims. Jones had done similar work in designating the wreck of the U.S.S. Monitor as a National Marine Sanctuary.
References:
"United States Census, 1880," index, FamilySearch (https://familysearch.org/pal:/MM9.1.1/MCXN-5ST : accessed 11 April 2012), Oscar Woody in household of John F. Woody (Holloways, Person, North Carolina).
Ancestry.com. 1930 United States Federal Census [database on-line]. Provo, UT, USA: Ancestry.com Operations Inc., 2002. Original data: United States of America, Bureau of the Census. Fifteenth Census of the United States, 1930. Washington, D.C.: National Archives and Records Administration, 1930. T626, 2,667 rolls.
National Archives and Records Administration (NARA),  Washington, D.C.;  Manifests of Passengers Arriving at St. Albans, VT, District through Canadian Pacific and Atlantic Ports, 1895-1954; Record Group: 85, Records of the Immigration and Naturalization Service; Microfilm Serial:  M1464; Microfilm Roll:  558; Line:  10.
"George Vanderbilt's Escape" The New York Times. April 30, 1912.
NOAA Office of the General Counsel. "R.M.S. TITANIC MARITIME MEMORIAL ACT OF 1986." Accessed April 12, 2012. http://www.gc.noaa.gov/gcil_titanic-act.html
"No Matter How Far they Roam They Remember Old Valparaiso" The Vidette-Messenger. Valparaiso, Indiana. September 07, 1929.  Page 2. http://access.newspaperarchive.com.proxy171.nclive.org/Viewer.aspx?img=51289540&refer=browse
"Personals" Panama City News Herald. Panama City, Florida, February 13, 1951.  Page 4.