Index to the News & Observer, 1926-1992
Search or browse topics and personal names to find related 20th-Century News & Observer article citations.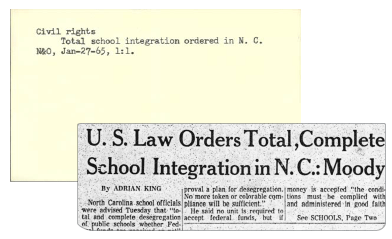 Librarians from the State Library of North Carolina indexed important topics and personal names from articles and selected obituaries that appeared in the Raleigh News & Observer from 1926 to 1992 (some years are currently missing from the index, namely 1978-1981). The index, until 1977, was typed onto catalog cards. The cards are now scanned and mechanically transcribed. The records created after 1977 were typed directly into a database, so no actual catalog cards were created.
This is an index, not a database of articles. Search for topics and names and the index will give you the information you need to locate the entire article at your local library. more
Search and Browse Tips
The database topics reflect the vocabulary usage of the period in which they were indexed. Some words are considered offensive today. For example search by:
"crippled" not "handicapped"
"mental hygiene" in addition to "Eugenics"