N&O Index Card
Subject/Name:
North Carolina Cotton Manufacturers' Association
Article(s) Referenced In:
1.
Cotten men hear Hoey and Jacobs. N.4-39:
Cotton men open gathering today. N.7-40; 2.
Chevalier speaks to cotton group in Pine hurst. N.3-41:2.
Murchinson urges new labor rules at meet in Charlotte. N.13-42:9.
Tax talk given at cotton meet in Charlotte. N.14-43:9.
Harris elected to Textile post. N.10-45: 2.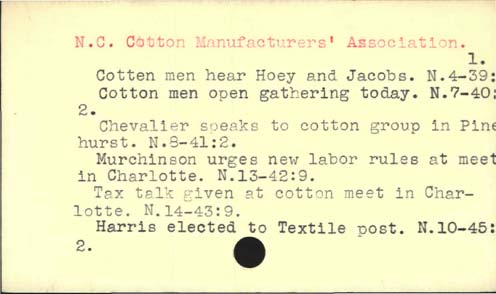 Places you might find this article:
Search For This Topic